Friday, November 16, 2018 at 8 AM – 5 PM PST
1001 I St, Sacramento, CA 95814-2828
Click to listen now!
When the IEN Media van is not on location we broadcast a variety of Indigenous focused and progressive radio programming 24/7. Please tune in and share with your family, friends and social networks.
We will NOT TRADE Our Future!

Confused or not sure what carbon offsets/tax/markets are? Wondering what impact they are having on Indigenous and Front Line communities? Click the image to find a series of briefing papers that explain everything from where the money comes from to the destruction of forests in the name of saving them.
~~~~~~~~~~~~~~~~~~~~~~~~~~~~~~
It Takes Roots Delegation at COP23
~~~~~~~~~~~~~~~~~~~~~~~~~~~~~~~~~~~~~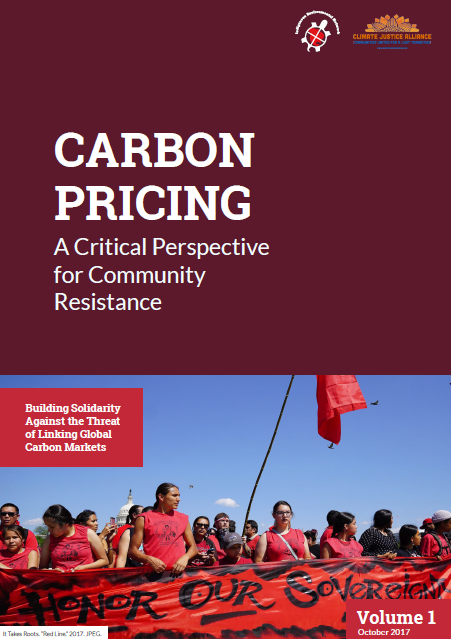 The Climate Justice Alliance (CJA) and Indigenous Environmental Network (IEN), along with other US-based members of the social, environmental and climate justice communities and global alliances have platforms calling for leaving 80% of the current totality of fossil fuel reserves under the ground and ocean in order to avoid global temperatures rising to no more than 1.5°C.
How will this transition away from fossil fuel extraction be organized within our respective communities?
What will the consequences be for people, our communities, humanity, ecosystems, habitat and all life?
Issues of climate and environmental injustice and equity cannot be avoided if such questions are to be addressed.
Click here to Read / Download this report.
Click here to Download a high resolution copy for commercial print.
Click Images to Learn More
IEN Campaign Websites – Click and Visit:
~HEADLINES~
~Campaign Updates~
~PRESS RELEASES~



Bemidji, MN – On Thursday, November 8, 2018, United States District Judge Brian Morris, issued a landmark ruling in favor of the Indigenous Environmental Network (IEN) and the North Coast Rivers Alliance (NCRA), and other groups in the litigation to stop the Keystone XL Pipeline.
Judge Morris's 54-page Order overturns the Trump Administration's approval of the KXL Pipeline and issues an injunction stopping all construction of the tar sands project. Judge Morris ruled that President Trump violated federal environmental laws when his Administration claimed that the KXL Pipeline was consistent with the public interest. Judge Morris ruled that approval of the KXL Pipeline violated the National Environmental Policy Act ("NEPA"), and the Administrative Procedure Act because: (1) President Trump disregarded prior factual findings by former Secretary of State John Kerry that the KXL Pipeline would unjustifiably worsen climate change, (2) failed to conduct an adequate survey of Native American cultural resources that would be harmed by the pipeline, (3) failed to provide adequate modeling of potential oil spills and their impacts on water resources, (4) failed to analyze the cumulative effects of this project on greenhouse gas emissions, and (5) failed to address the effects of current oil prices on the viability of the project.
The injunction against all construction work will stand until the Trump administration can complete a supplemental review on the 5 points mentioned above.
© Indigenous Environmental Network ~ All Rights Reserved ~ 2018-2019